Why JA?
Author: Amanda Coburn
Community Involvement
Published: Friday, 29 Oct 2021
---
Sharing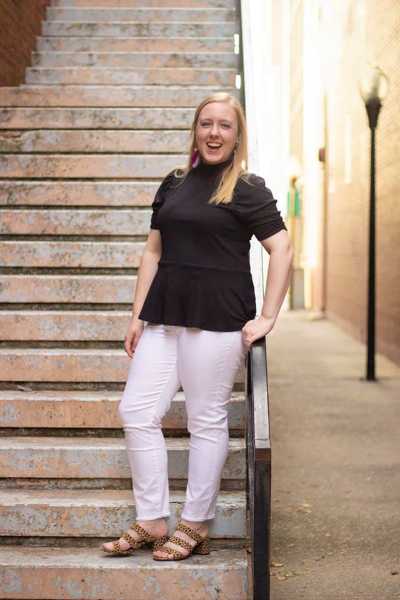 Image caption: Amanda Coburn, Director of Strategic Partnerships at Junior Achievement of Southwestern Indiana
First, allow me to introduce myself since this is the first letter you've ever received from me! My name is Amanda Coburn and I'm the new Director of Strategic Partnerships at Junior Achievement of Southwestern Indiana.
So why did I join JA? When considering this position, I thought back to when I was a kid. I was born and raised in Evansville. My dad worked in plastics factories on the west side. My mom was a secretary for 2 local health care companies over the course of her career. While I don't know exactly what their salaries were, I know they both had good jobs and that we probably could have lived comfortably.
But that was not my reality. My parents were both terrible with money. We had our basic needs met, but savings and financial literacy were "not a thing" in my household. I remember riding around with my mom once a month, going to make payments on each of her high-interest cash advances that she took out to cover expenses. Financially we lived our lives in 30-day increments. As an adult with my own family who has tried to learn from their mistakes, these things sadden me now.
I joined Junior Achievement of Southwestern Indiana because I know how badly kids need our programs. I know what it's like to come from a family where you will not be receiving inheritance money, or a colleague of your dad's that can help you get your foot in the door at a company, or no one is teaching you what investment is. Not all kids start on the same playing field. So many students will need to be prepared to climb to where they want to be, all on their own. And that's where JA comes in.
Our vision is that students in this region can grow up to lead choice-filled lives, no matter what their childhood is like. As we kick off this season of thanks, will you join JA to help us equip future generations with the skills they need to own their economic success?
How you can help:
Get your company involved in student events like JA JobSpark
Your contribution will help us continue #InspiringTomorrows for more than 20,000 students in our 15-county Indiana and Illinois service area. Thank you for your time, and happy holidays to you and your family!
With hope,
Amanda
We use cookies to provide you a personalized experience. How we do this is by analyzing user behavior on our site and sharing data with our advertising and analytics partners. You consent to our cookie policy if you continue to use this website.